To find the right pants that suit your unique body shape, it is critical to first understand the strengths and weaknesses of your body type. We've done a deep dive of all the common body types in this detailed guide, to help you first understand your body features and then find the most flattering pants for you.
Apple
Pleated pants
Although the apple body type comes with feminine curves, there's almost always a corresponding amount of weight around the midsection that can throw off your body shape. This is one reason why you need pants that don't emphasize this area but rather disguise it as much as possible.
Pleated pants are a top recommended style for the apple body type. Pleats around the front of the pants are perfect for minimizing attention on tummy bulges, and it seems like they are made just for this.
The amazing thing about pleated pants is that they don't create any imbalance in your overall figure. Instead, it's a great way to add special details to your pants and enhance your feminine outlook visually.
Straight leg pants
Sometimes, simple rocks your body better. It's a great idea for every woman with an apple body shape to have straight leg pants in their closet. This is an elegant style with a straight cut that draws attention away from your midsection and hips as it creates a vertical line downwards.
Since this doesn't have a clingy feel on your frame, this is what makes it effective for hiding your muffin top. Thanks to the simple pant style, apple shaped women don't have to self-conscious about how their figure appears through the pants as they are super comfy. No doubt about it, the figure-balancing effect of straight leg pants come in handy for the apple body shape.
High-waist pants
Here's another effective pant style that helps to conceal muffin tops on apple shaped women. You can't deny how beautiful high-waist pants can be on the body frame, especially how they sit comfortably above the bum.
With this, you don't have to worry about the pants riding low while you move around. However, the most important benefit of high-waist pants for women with an apple body shape is how it minimizes your tummy bulge so it doesn't distort your overall figure.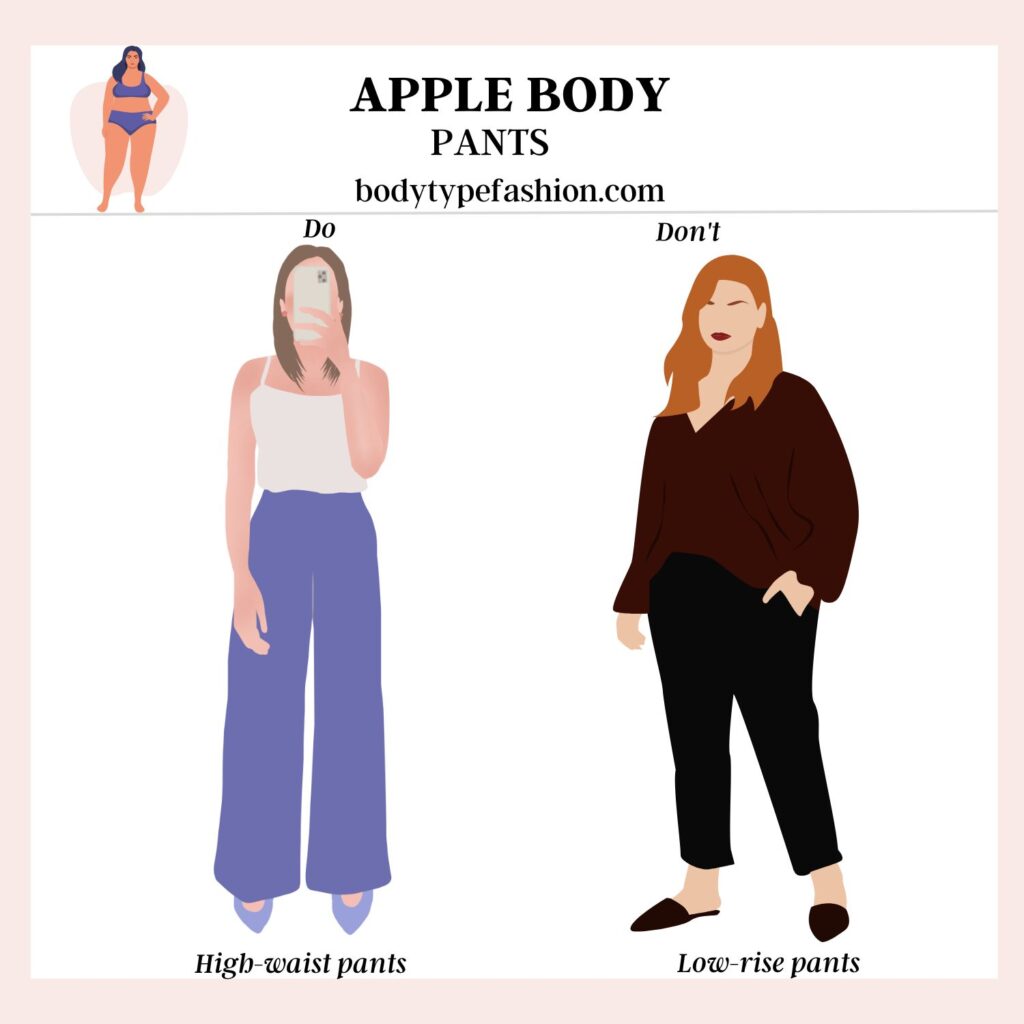 So, if you're worried about the volume around your midsection, this is a ready solution. This high-waist style also helps to give an illusion of a slimmer silhouette which is great for your legs.
Avoid leggings
Apple-shaped women should avoid pants that are too tight-fitting on their body frame as it draws attention to tummy bulges while making them looking bigger than they actually are. Leggings accentuate your legs in a way that makes you look top-heavy.
The direct result of this is the imbalance in your body proportions since there's more volume on the upper half of your body. Naturally, you have a slightly unstructured figure and this becomes more obvious when you wear leggings. Also, you'll be sacrificing your comfort when you put on leggings as there's a high chance you won't achieve the elegance you desire.
Pear
Dark colored pants
The biggest positive effect of dark colors on your pants is that they help to slim down your silhouette, giving you a more streamlined look that highlights the best parts of your features. So, as a pear-shaped woman, this will easily make your wide hips appear smaller so it can be easily balanced with the top half of your body.
Another great benefit of dark colored pants is that they draw attention away from your lower figure, while lengthening your legs visually.
If you want to easily achieved a balanced silhouette with a more feminine outlook that adds an extra bit of confidence to your steps, you'll definitely love dark colored pants. So, add more of this to your wardrobe.
High rise pants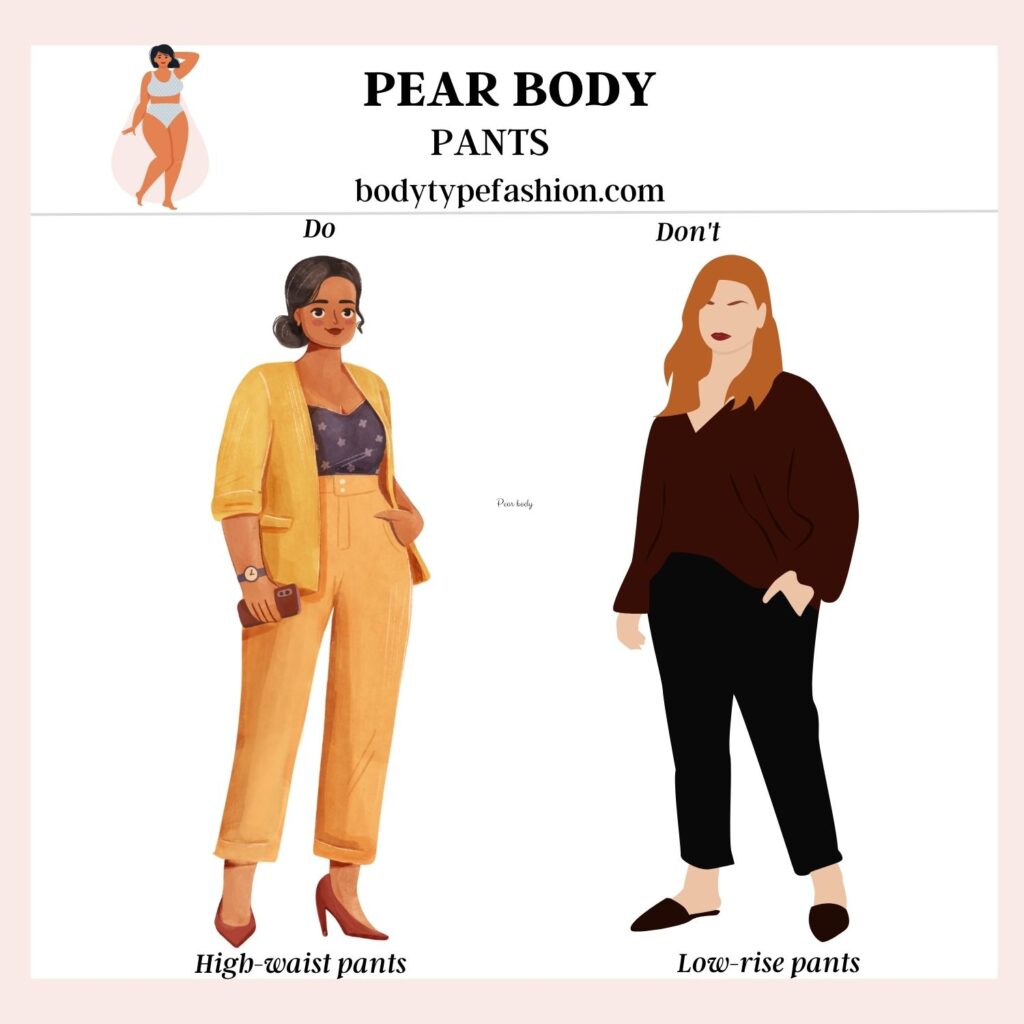 A simple way to enhance your pear shape and make your figure appear more beautiful is with a high rise pant that flatters your silhouette. Rise is important when choosing pants because a huge part of your comfort depends on your choice of rise.
If it's low or medium rise, there's a high chance you'll experience a lot of discomfort and imbalance in your body frame. however, you won't experience this with high rise pants. They work perfectly for the pear body shape because of the illusion of slender hips and elongated body frame that they enhance on your silhouette.
The huge coverage they offer on all parts of your hip above your natural waistline is another benefit to consider when opting for this rise.
Wide leg pants
Flares are flattering for women with a pear body shape. Therefore, it's a good idea to consider investing in loose-fitting wide leg pants that hug your hips before flaring from your thighs in a subtle yet elegant way.
However, this doesn't cling tightly to your hips but flows naturally with your body shape to create a flattering and feminine look. The true magic is in how it disguises the actual width of your hips which reduces the volume of the lower half of your body.
It doesn't hurt that wide leg pants make you look really beautiful due to how proportionate your figure appears in them. Also, there is more attention on your upper body which creates a lengthening effect on your legs.
Avoid bold-printed pants
Bold prints are attention-grabbing and when they are present on pants, that means there will be heavy focus on the lower part of your body. For the pear shape, this is not a good idea.
More attention on your lower half means that your naturally wide hips appear even wider, completely throwing your silhouette off balance. Think about a round football and imagine that look around your hips.
Not a flattering look, right? If you must wear prints on your pants, opt for small ones instead that don't have a huge effect on your body proportion. However, if you can, avoid them completely as they are not stylish or comfortable enough to boost your confidence when you wear them.
Inverted triangle
Palazzo pants
Tap into the market of breathable pants if you are big on maximizing comfort as much as possible. A top choice is palazzo pants that give enough room for your narrow legs to stay freely without discomfort.
Palazzo pants are incredibly flattering for the inverted triangle shape and a huge plus is that they are really easy to wear on your natural body structure. The natural style of the palazzo pants is to add more volume to the lower half of your body so that both halves can have the right proportion.
Also, inverted triangle-shaped women typically have broad shoulders and palazzo pants help to downplay this width so it's not overwhelming on your body figure. Choose palazzo pants made with lightweight fabric as they also help to visually lengthen your legs apart from being super comfortable.
Cargo pants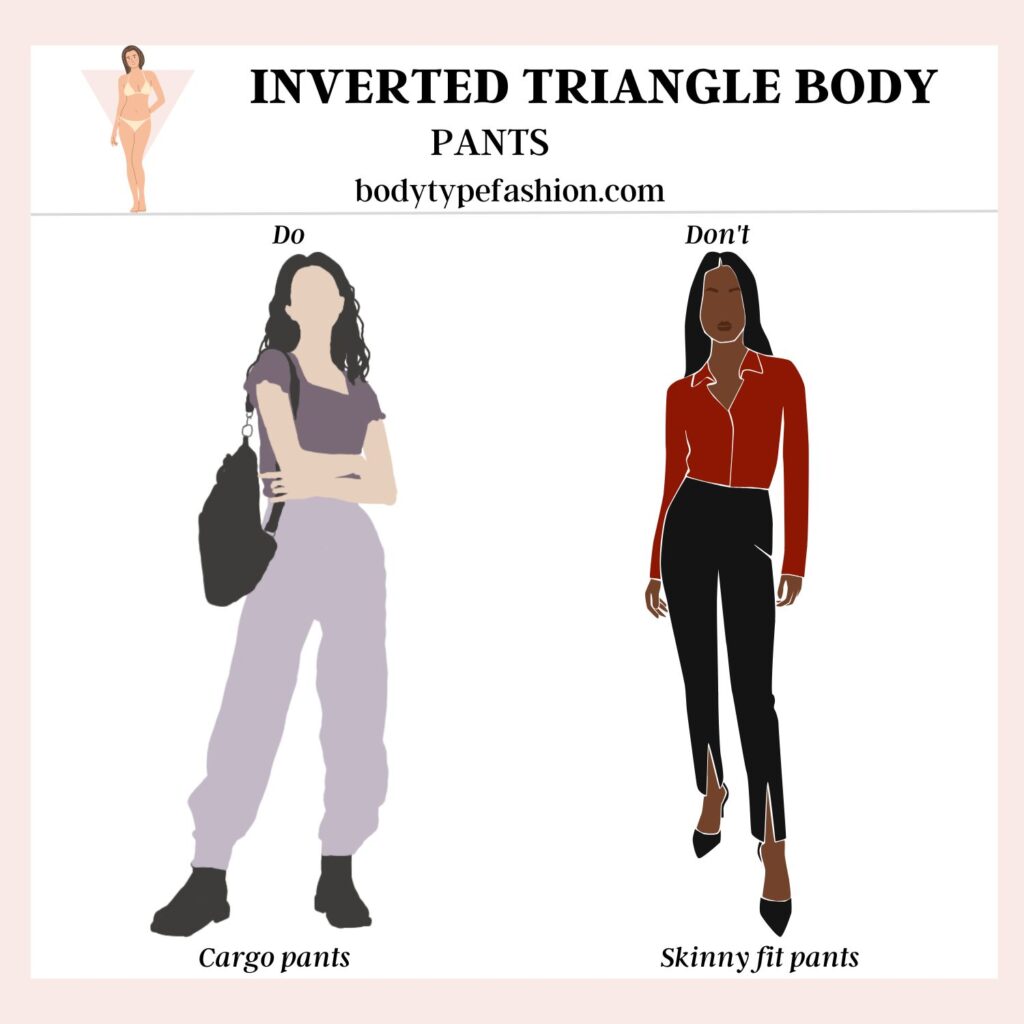 Cargo pants are naturally designed to be bulky on the body frame and this is what makes it great for women with an inverted triangle body shape. The inverted triangle body shape has broad shoulders with slim hips, making the upper body appear voluminous.
However, this special pant style will elevate your inverted triangle by adding more width to the lower half of your body instead. Of course, this is a loose-fitting style so we have to give extra points for the level of comfort you'll experience when you wear cargo pants.
Every woman with an inverted triangle shape can pull off a great look with cargo pants as they flow seamlessly with your body frame in a way that balances your figure.
Flared pants
Here's another incredibly stylish choice for inverted triangle shaped women that want to stand out from the crowd and wear pants tailored for their body type. The attractiveness of flared pants lies in the fact that it has a relaxed fit that flow snugly across your body frame.
This is a simple yet elegant style that emphasizes your beauty without doing too much. It starts fitted from your thighs to your knee before flaring out towards the hem of the pant legs.
The biggest effect of flared pants is a flattering one on your feminine figure without exaggerating aspects of your body that you would like to minimize. The extra volume from flared pants makes your hips look wider.
Avoid skinny pants
Since you already have narrow legs courtesy of your natural inverted triangle body shape, it's not a great idea to draw attention to this by further tightening the look around your leg. Skinny pants are extremely tight on the body frame and they will make your inverted triangle more obvious since they further slim down your narrow legs.
This extra level of imbalance can leave you feeling self-conscious and uncomfortable since there is no breathable space for your narrow legs. It's best to wear pants that leave room for your legs, so it's not a pain wearing them around.
Rectangle
Mid-rise pants
With pants, rise is important because whichever one you choose determines the level of comfort you get around your waistline. No one wants to wear restrictive pants, and mid-rise pants will give your legs the necessary amount of room.
There will definitely be a decent amount of comfort around your waistline without drawing attention to your straight silhouette or causing an imbalance on your body figure. This is a better choice compared to low-rise pants.
Low rise pants emphasize your body's square-like shape, and this is not a flattering result for anyone looking to achieve a feminine and curvy silhouette.
Pants with wide waistband
Drawing attention to your waistline is the way to go if you want to create the illusion of curves on your body frame. There are several ways to do this effortlessly but a favorite is wearing pants with a wide waistband.
Wide waistbands draw attention to your midsection and are effective for deemphasizing unflattering aspects of your figure. This significantly improves your looks and creates a waist cinching effect you'll love. This can be an elastic waistband to avoid a tight-fit that will leave you uncomfortable.
Pants with a wide waistband are a better option than slim ones because you can't achieve that waist-cinching effect with slim waistbands. Rather, they will make your waist definition appear non-existent and highlight your straight silhouette.
Bootcut pants
For fans of simple styles, here's something special for you. Bootcut pants are perfect for creating curves around your rectangle body shape which is just what you need to achieve a more feminine outlook on your body figure.
This is a fitted style that hugs your waist and hips flawlessly before flaring out around your knees slightly. The shape of bootcut pants is what makes them a top choice for the rectangle body type because this is what deemphasizes your straight silhouette.
Also, if you're a petite rectangle shape, you'll benefit a lot from the lengthening effect of bootcut pants on your narrow legs, giving the illusion of a taller body frame.
Avoid baggy pants
The rectangle body shape is characterized by a straight up and down silhouette, often accompanied by an athletic build. However, the major feature here is the lack of waist definition and that means you have to opt for pants that elongate your legs while creating the illusion of curves.
Baggy pants won't help you achieve any of these results, so it's best to avoid them. They draw attention to your straight silhouette, thanks to the oversized design that emphasizes straight angles on your body.
Baggy pants do not compliment your body shape but conceal them, which is not the way to go if you want to achieve a curvy silhouette and play to your assets.
Hourglass
Pants with vertical stripes
The goal for hourglass women is to appear slimmer and taller with a smoothened feminine figure, while this is all possible with the highest level of comfort. Sounds like something you would love for your body type?
That's why the first recommendation here is to wear pants with vertical stripes. Vertical stripes natural draw the eyes upwards and downwards, drawing attention to your defined waistline and nicely shaped legs.
This is one of the best ways to emphasize your hourglass silhouette while giving the illusion of a visually longer lower body frame. The hourglass silhouette is one of the most flattering in existence and it's best to appreciate your unique figure with the right pair of pants. So, ensure that the stripes are not wide to avoid widening your frame visually instead.
Dark pants
Would you like to have a slimmer silhouette that gives the overall feel of elegance? Check out dark pants and the effects they can have on your hourglass body type. It's only natural that brightly-colored pants will draw a lot of attention to your lower body.
However, you can have the opposite of this with dark pants that minimize the attention you get on your body width, thereby giving a slimmer silhouette. You could say that they help to package your curvy body frame properly, so you never feel like there's any imbalance in your body shape.
Of course, dark colors are quite versatile and less details on your curvy hip help to eliminate the chances of appearing bottom-heavy.
Straight leg pants
Straight-leg pants are so flattering that I can fall in love with them over and over again. It works exactly as it sounds, which is to create an unbroken vertical line that moves across the length of your legs.
The appeal is in the simple cut and comfort levels on your small waist and curvy hips. For hourglass-shaped women that want a simple yet sophisticated style of pant, you shouldn't ignore straight leg pants.
Since this pant is not tight-fitting, you'll like how it gives your wide hips room to stay comfortable without overwhelming your body proportions. This is perfect for creating the illusion of being taller, therefore petite hourglass women should definitely consider having a few in their wardrobe.
Pants with pleats
The relaxed fit of pants with pleats makes them a top choice for women with an hourglass body shape. The extra volume from the pleats help to emphasize your curvy silhouette while the comfortable fabric lets you wear them all day to your satisfaction.
Wear pants with pleats that start right below your waistband as this is the perfect position to highlight your curvy outlook easily. Pants with pleats draw attention to your lower body, so you should definitely consider owning more than a few.
It's not every time you come across pants that are tailor-made for your body type and pants with pleats rank highly in this category.
Got a favorite yet? It's time to shop for pants for your next big event.